We can all make a difference everyday, just with the products and purchases we make daily. Here are a few favorite ways your money can go further than usual, and change a life.
100% of the profits from these handmade Mexican item goes directly to Vida Outreach, a 501(c)3 organization committed to transforming communities in Mexico through hunger relief, development, and education, breaking the cycle of poverty through empowerment.
One bracelet provides 15 meals at the breakfast program at the Tijuana dump
One headband is 45 meals at the Tijuana dump program.
One backpack sale buys a child a school uniform or shoes. In Mexico, public school is not free, so help support the end of poverty through education directly with your purchase and change a child's future.
Learn more at http://vidaoutreach.org
These delicious meal bars are more than just healthy, tasty snacks. For every bar purchased a meal for a hungry child around the world is provided by Two Degrees. Partnered with hunger fighting organizations such as Action Against Hunger, Akshaya Patra Foundation in India, IMA World Health, Relief International, World Food Program and Valid Nutrition, Two Degrees has committed over 500,000 meals for hungry children. In 4 yummy flavors, these vegan, gluten free, all natural bars are our favorite snack. Eat one a day and feel the satisfaction of feeding yourself something good while feeding someone else in need!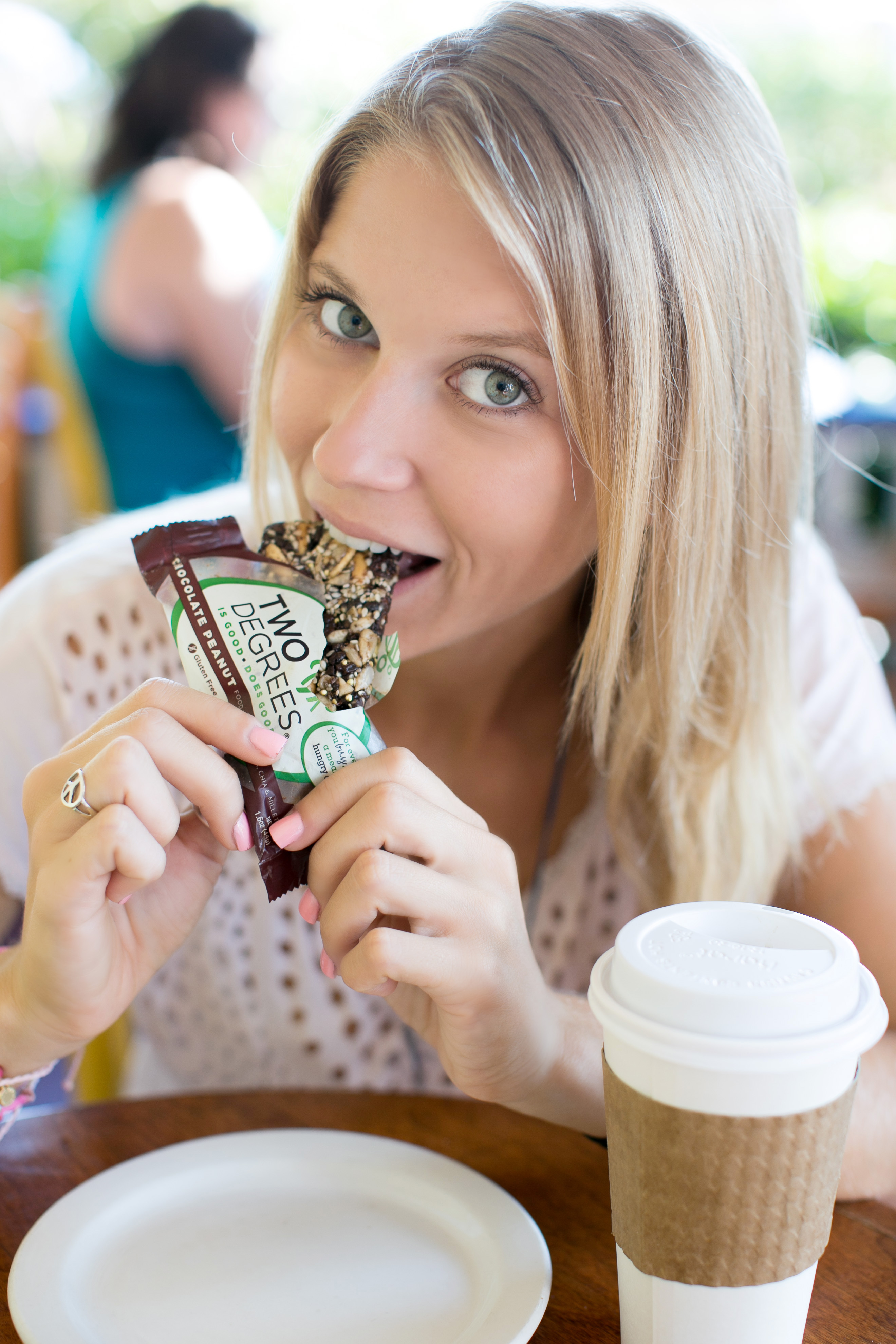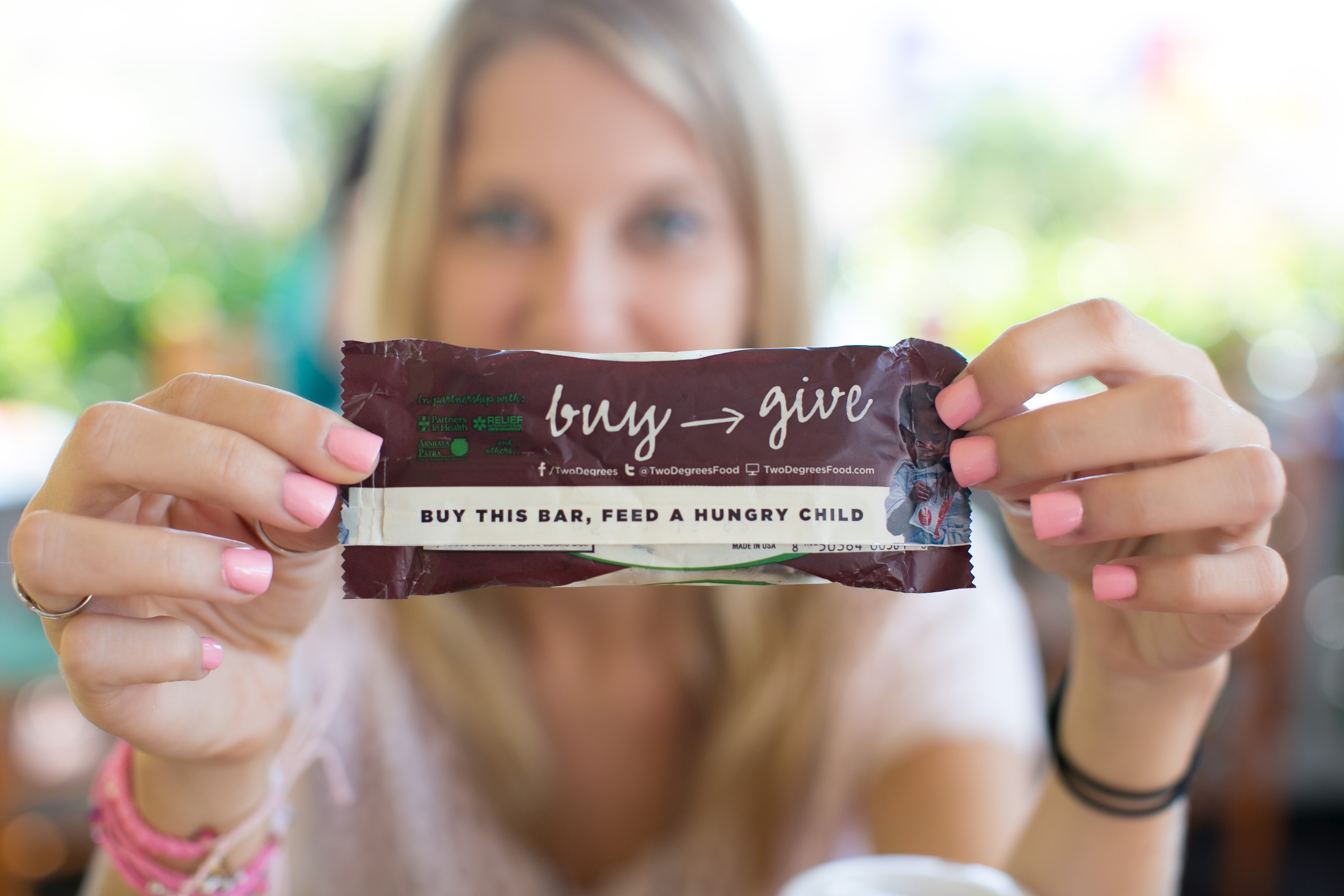 Started a year and a half ago by two SDSU college students, Pura Vida bracelets now employ 25 people in Costa Rica and have a fun, new, full office in San Diego! They sell these bracelets now at Pac Sun, Nordstrom, Rip Curl, Buckle and have been seen on the wrists of A list celebs like Robert Downey Jr, Victorias Secret models and Skrillex. Now not just bracelets, but beanies and shirts, hair accessories and necklaces with a percentage of proceeds going to different non profits. An inspiring story of young bright entrepreneurs who are doing great business for the world. Click the Image to watch my interview with Griffin, a friend and cofounder of Pura vida.

October is breast cancer awareness month and Pura Vida have put together an adorable pack of pink bracelets in support. Each pack sold donates 10$ to the Susan G. Komen for the Cure Foundation! Im proud to be the "spokeswrist" here for their October campaign and will be wearing my pink wrist all month in support!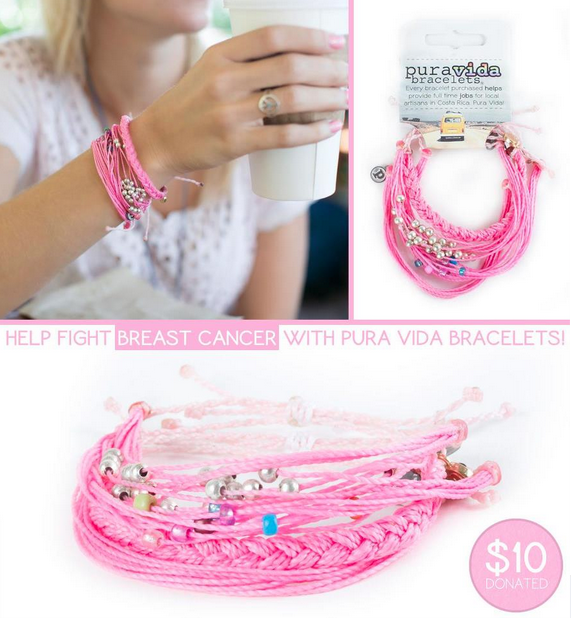 We don't like to admit it, but coffee makes us SO happy! Now there is a way for us to drink our morning (evening or afternoon) cup for a cause! With almost 1 Billion people worldwide lacking access to clean, safe, drinking water, the primary goal at Three Avocados is to provide funding for clean water projects. 100% of the net proceeds from Three Avocados coffee provide clean water in Uganda, Africa. In addition to saving thousands of lives, clean water has the power to provide hope and a future to people who need it most. The coffee is fantastic, as well. The beans are 100% Arabica and come from Mt. Elgon in Uganda, bordered to the north by Ethiopia, the birthplace of coffee. Now that is one delicious, guilt free, cup o joe!

Each time you purchase a pair of SOLOs, you fund a pair of prescription eyeglasses and a portion of an eye surgery for two people in need.  In order to fulfill the SOLO Vision to Give, they donate 10 – 15% of the profits to fund eyeglasses and cataract surgeries. Currently, SOLO Eyewear  has reached 12 countries, restoring vision to 1,00 people through their partnership with three organizations: Restoring Vision, L.V. Prasad Eye Institute and Aravind Eye Hospital. This company is close to my heart, especially because of the time I spent volunteering in clinics in India where many people suffered cataracs but could not afford the surgery and often times it affected their entire family. I saw a 9 year old girl come into a clinic in the slums of Barota and when the doctor asked why she was not in school he discovered her father was blind from cataracs, so she had to stay home to care for her younger brother so her mom could work cutting vegetables in a restaurant to barely make enough to eat. SOLO is creating opportunities for vision as well as futures and it all starts with YOU snagging a pair of these fashionable shades!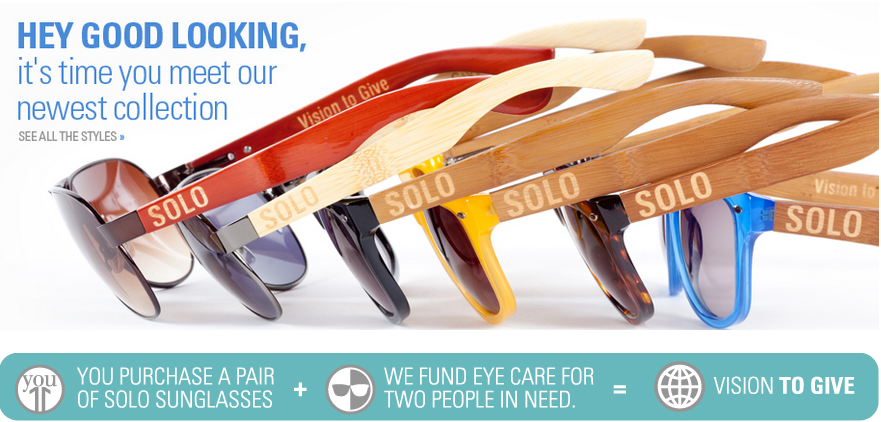 Unlike other companies that may be affiliated with a charity, every shirt purchased from  This Shirt Helps allows one of their four charities relating to people, animals, the planet and disaster relief, to complete a measurable task that provides immediate relief. There is no conversion of money or percentage someone has to calculate. You choose your cause, you choose your impact.  With TSH, buying one shirt really can change a life.  A really cool thing they do is keep track of the impact made with their purchases on their site with a "Help Ticker" so you can see what we've accomplished together, one shirt at a time.