There are so many amazing great causes, however, here are a few of my favorite. I have spent the last 5 years dedicating every spare chance to getting involved wherever I can and these organizations have proved to be affective, authentic, transparent and trustworthy.
I am always Happy to hear of great causes anywhere, so PLEASE SHARE! :)
Mexico is one of my favorite places for so many reasons. The food, the culture and the people are so warm and welcoming. The country is so close to us, yet  Recently I have been visiting La Mision, just south of Rosarito and volunteering with Vida Outreach, , a 501(c)3 organization committed to transforming communities in Mexico through hunger relief, development, and education, breaking the cycle of poverty through empowerment.

Becky and Mike Spitz run Vida Outreach from their community center that provides for the community numerous services

A Homework, Tutoring, and Computer Lab
Afterschool Activities and Games
English Classes
Sewing and Skills Classes
Community Organizing
Youth Sports and Acuatic Events
Scholarships for Low Income Students
Youth Mentorship
Community Service Projects
A partnership with Uban Surf 4 Kids

During a yoga/surf/volunteer trip to Mexico in May my group of passionate, entrepreneur women came up with a plan to support Vida Outreach with our skills, collaborating to create revenue through selling beautiful handmade Mexican fashion accessories, something we all love ourselves. Shopping for a good reason!

100% of the profits from this handmade Mexican item goes directly to Vida OutreachOne bracelet provides 15 meals at the breakfast program at the Tijuana dump and one headband is 45 meals. One backpack sale buys a child a school uniform or shoes. In Mexico, public school is not free, so help support the end of poverty through education directly with your purchase and change a child's future. To purchase one of these items http://vidaoutreach.org
…………………………………………………………………………………………..
Peruvian Hearts – Cusco, Peru
Virgin Unite – Global
 Founded and 100% funded by Virgin mogul, Richard Branson, with the purpose of uniting people and entrepreneurial ideas to reinvent how we live and work in the world to help make people's lives better. The Virgin Unite goal is to help revolutionize the way businesses, government and the social sector work together – driving business as a force for good!  By also incubating new, independent approaches to leadership including the Elders (a conflict resolution organization co founded by Nelson Mandela), the Carbon War Room, and the Branson Centres of Entrepreneurship, they are branching out to even more specific target areas in need of serious reform.
Want to hang with Sir Richard like I did on Necker Island, or South Africa?  A small group of Virgin Unite 24902 members will join Richard Branson on a life-enhancing journey, beyond the imagination one of of their Connection Trips.
…………………………………………………………………………………………..
 Urban Angels- San Diego, California
  Monday- Thursday "Urban Angels" get together to assist at the Connections Housing shelter and  Salvation Army in Downtown San Diego, distributing meals provided by the generous people at FIT Athletic Club from their "Food @ FIT" program. (Now you can get your healthy meals on the go while at the gym? Perfect!) These meals are healthy and 100% natural. The atmosphere is fun and full of  100% love and gratitude! Join us this Wednesday at 6pm on 7th and E with parking on 8th or Monday, Tuesday or Thursday at Connections on 6th and A st at 6 pm.  Just one hour of your week makes a difference to those in our community in need of a smile and to know you care! I promise you will make great friends while you are at it.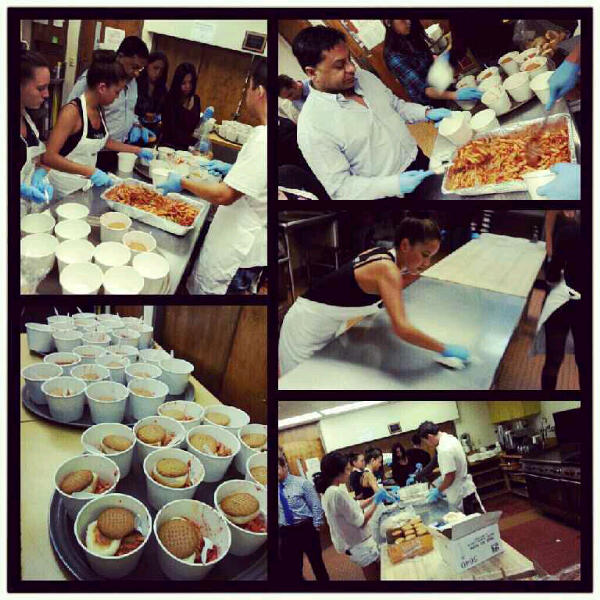 …………………………………………………………………………………………..
Global Wildlife Conservation: The best research scientists and conservation specialists in the world are working together with GWC to do more than just learn about species and wildlife unknown to us still, but to protect it through action. They are working with local organizations in countries around the world to protect land from development and animals from extinction. These scientists are the real Indiana Joneses, going into the most remote parts of the world on expeditions to study and help protect precious nature from disappearing forever.
…………………………………………………………………………………………..
Model Citizen Fund:  MCF wanted to create a way to provide a "fresh start" for those people that need it most, homeless, displaced and victims of disaster, by including a few weeks worth of food & beverages as well as a blanket, poncho, sleeping bag, toiletries, cleaning supplies and many other key items for basic human comforts in a single backpack. They even sponsored our 30 students at the Peruvian Hearts Oprhanage in Cusco with backpacks in case of an emergency in December where we volunteered over the holidays.
…………………………………………………………………………………………..
Thirst Relief International  – Global
Nearly 1 Billion people today, STILL lack access to safe, clean drinking water and more than 2 Billion lack access to adequate sanitation. With nearly 1 million children dying each year due to water related illnesses, that are preventable, water is the most vital component to not only survival, but also to the development of a community.
Check out this amazing video by a group of philanthropic photographers addressing a global need of clean water! Their video is so worth watching! 
…………………………………………………………………………………………..